Notes
In this section, we will describe points that need attention when setting OUMail.
1. Requirements for multifactor authentication
Multifactor authentication is effective when you log in to OUMail from a web browser and when you use the Outlook application (Outlook 2016 or later) that comes with Microsoft Office, and the standard mail application of Windows 10.
Osaka University recommends using e-mail with a web browser.
It does not apply to applications that do not support multi-factor authentication (eg mail client software such as free software Thunderbird or Mac Mail).
2. Application which does not support multifactor authentication
We recommend using e-mail in a web browser, but when using an application that does not support multifactor authentication (eg, a mail client such as Thunderbird or Mac's Mail), you can use "Application password"which is created after initial setup of multifactor authentication.
3. Application password management
The application password can be created and deleted by yourself, and can be issued and managed for each application. If you forget your password, or forget to take notes at the first setup, you can get it later.
Please manage the application password correctly like the original password. If there is a possibility of leakage, please delete the corresponding password promptly according to the following management method and issue another password.
The setting value can be confirmed and managed by the owner when it is created. However,
in the case where a fraudulent case is suspected, such as when the e-mail address is used for sending unsolicited e-mails, etc., the administrator may erase the setting of the app password as an emergency response. Please note.
Please understand the above, please use it.
→『"How to manage application password"』
4. Setting Additional method and Changing Default method
If you want to change the settings later, please check the following.
→『
Set Up Additional Security Verification (including Changing Default method for Multi-Factor Authentication)
』
5. Frequency of Multi-Factor Authentication prompt
When logging in after the initial setting of multi-factor authentication, MFA will not be requested for 60 days by checking the check box on the screen below and authenticating. However, if your browser and PC change, MFA will be requested.
Since the classroom PC of the Cyber ​​Media Center does not store authentication information for security reasons, MFA is requested at the first access after logging in to the PC.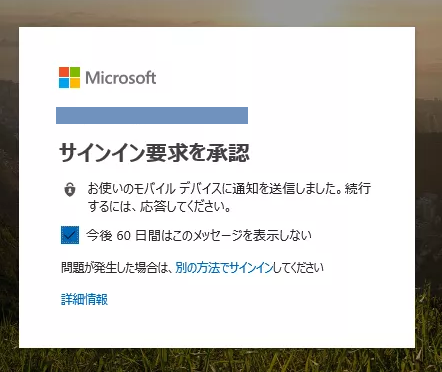 6. Required procedure when not bringing an authentication device
Notice: Please contact info2@ecs.osaka-u.ac.jp for the time being from April 8th.
If students forget to bring an authentication device when they take a Cyber Media Center's class that requires OUMail, please inform a staff of Toyonaka Cyber Media Center office(1F). After confirming the student ID card, the staff temporarily cancels multifactor authentication. (Since it is a temporary measure, please set up multi-factor authentication by the next time you need it and bring the device.)
※Please inform the staff of Toyonaka Cyber Media Center office(1F) in case students do not own their authentication device.
7. Required procedure for changing the authentication device
If you plan to change the authentication device such as a mobile phone or smartphone, please refer to "4. Setting Additional method and Changing Default method". You can add another authentication phone number in advance, or register for mobile app auth on a new smartphone.
Other
It may not be possible to respond to inquiries about how to operate equipment such as smartphones on hand. Please note. (Please contact your mobile phone company for inquiries regarding equipment operation.)
Contact Information
For Student
Information and Communications Technology Services Infrastructure Division, Osaka University
TEL :06-6850-6801/6805/6806
E-mail:info[at] (Please replace [at] with @ and add "ecs.osaka-u.ac.jp")
For graduates
Alumni Section, Liaison Office for Osaka University Funds, Osaka University
TEL :06-6879-7196
E-mail:alumni-info[at] (Please replace [at] with @ and add "ml.office.osaka-u.ac.jp")